Limited Edition Collaboration Pendants
Our good friend and talented artist : Josefine Reuterborg made 6 of these pendants for us . A combination between native jewelery and the logo of our hometown . Each one is handcut out of siver and has a turquoise stone set into it and nr 1-6 , waxed cotton cord .
Get them here : https://www.eatdustclothing.com/collections/aw-19-20-city-of-bad-man/products/jr-ed-collab-pendant
You can check out more of here work here : 
https://www.instagram.com/josefinereuterborgsilver/
 Here is why we used a hand as symbol .
The legend of Brabo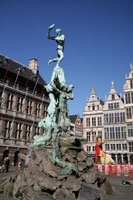 Brabo Fountain
More than two thousand years ago, when Antwerp was just a small settlement in the Roman empire, Druon Antigoon - a giant from Russian descent - built a large castle along the river Scheldt. He exacted a toll from every passing ship that sailed down the river. The giant cut off the hands of sailors who were unable or unwilling to hand over half of their cargo, and threw their hands in the river.

One day, the Roman soldier Silvius Brabo sailed along the giant's castle. He refused to pay the toll and challenged Antigoon to a duel. Brabo managed to defeat the giant, cut off his head and hand and threw the hand in the river.
The Hand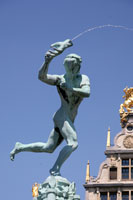 Brabo Statue
According to popular etymology the city's name - Antwerpen - is derived from the act of Brabo throwing the hand ('handwerpen' in Flemish).
The hand symbolizes the free waterway, which was vital for the city's survival. The hand also became a symbol of Antwerp and appeared on city seals as early as in the thirteenth century.
Even today it is prominently visible in the city: the hand is displayed on the city's coat of arms and a local delicacy, known as 'handje' is shaped like a hand.
---